FOUNDATION INSPECTION
In cases where reconstruction of an existing building/structure is envisaged, and an increase in loads is planned within the framework of the reconstruction, it is recommended to examine the existing foundation. Inspection of foundation within the framework of geotechnical research usually refers to the excavation of an exploratory trench or a dug hole in a particular location (under the bearing column, at the joint point, etc.) and the determination of their condition, type, materials used and depth of setting. The exploratory trench can be made from the outside of the building or from the basement (if the building has one). Exploratory trench locations are usually determined by the designer depending on the tasks to be fulfilled during the reconstruction.
Excavation of exploratory trenches is usually a manual type of work using a variety of hand tools. In some cases, excavation machinery is also used.
After the excavation of the exploratory trench down to the base of the foundation (preferably), the respective documentation shall be executed under the guidance of specialists of SIA "Ģeo Eksperts". Foundation structure measurement, evaluation of the condition of the materials used in construction, as well as photofixation are usually carried out within the framework of the documentation.
After the inspection and documentation of the exploratory trench, it shall be backfilled with excavated material.
An example of a completed exploratory trench is given in the figure below.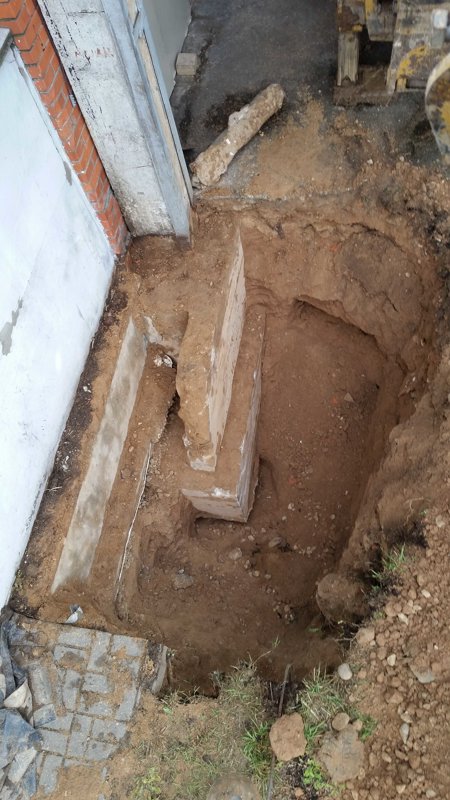 Foundations excavation at factory building (Rēzekne, Latvia).